I'm sure you all remember my very insightful
post
from months ago stating my point that Cheese Nips are the best cheese crackers ever made. Well, I have a confession. . . this is hard to admit. . .but I'll do it. . .
I tried the Cheez-It Zesty Queso/Cheddar Blanco Duoz crackers and I love them.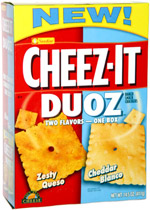 There, that feels better.


Well, not completely. I have one other thing to get off my chest. I tried the Cheez-Its Tabasco crackers and I love them too.
Ahhhhh! Cheese Nips, I'm so sorry! I still love you. But I've decided to broaden my flavor spectrum. I blame Joey. I was buying him Cheez-Its(because he is a self-proclaimed "it" lover) and bought a couple of new flavors. I had to try them myself of course! But I am still a firm believer that the original "nip" beats the original "it" any day. I'm still a nip at heart.
:)